To raise funds for a project for female farmers in Ghana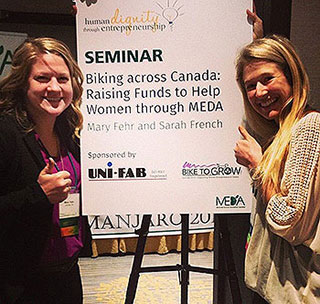 Sarah French and Mary Fehr are taking a bike trip across Canada they call "Bike to Grow," to raise funds for a project for female farmers in Ghana.
Sarah says, "We are doing this 8,710 km trek because we believe in an NGO called the Mennonite Economic Development Associates (MEDA). I went to Nicaragua with MEDA as an intern in 2013/2014 to work on sustainable development in agriculture. I had lived in Argentina with Rotary in 2007/2008 and in Spain 2011/2012 as a university exchange, but in Nicaragua I really got to see poverty for the first time, first hand."
Their travels will be from May 15th 2015 to September 5th, 2015.
Sarah adds, "I was travelling to remote areas and interviewing farmers who were in the MEDA project to see the influence the program had on the individuals. I also rented a room from a very poor Nicaraguan family. I was personally touched by the issues they face. Along with poverty, I also saw a huge inequality for females. "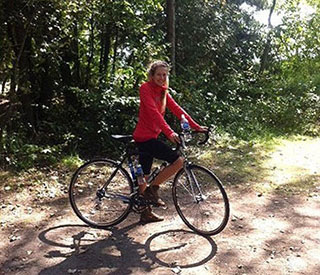 "I fully trust MEDA because I saw the work they did first hand and the passion that employees have for helping. 100% of all funds are going to the GROW project. Mary and I will be paying for are own airfare, etc. We've already bought our bikes and have been training," says Sarah.
This video describes GROW: vimeo.com/78859325 For General Information about all MEDA projects, check out Meda.org

You can follow them on Facebook, instagram, and twitter as "Bike to Grow"

Copyright &copy2015 Rainbow Media