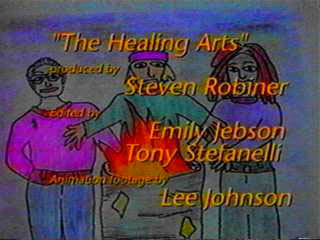 Art of the People
Summary by Michael Schwartz
©1996-2001 Copyright Rainbow Productions- All Rights Reserved
UpBeat and the UpBeat logo are service-marks of Rainbow Productions
| | |
| --- | --- |
| "S.W.A.N.'s mission is to look at homelessness through the eye of the arts , then develop and uncover some solutions through the arts that all people can understand." -- Street Without a Name (SWAN) - Founder, Ronda Flanzbaum | |
| | "SWAN brings people together as equals regardless of race, sex, or housing status. We take them back to the days of arts and crafts." They have aesthetic sense, talent, skills; they have things they want to express, and SWAN gives them opportunity to do that." - Carma G. Henning, Shelter Director |
The residents created 14 mosaic frames that are displayed for all to see at the shelter.
| | |
| --- | --- |
| This is the Transitional Dome Village where its residents along with SWAN, Ronda Flanzbaum, Ted Hayes, and Anim-Action studios, organized the creation of an ambitious animation project. | |
The animation piece proved to be the perfect opportunity for different people of different races and backgrounds to come together and reach a common goal.

Here are some related links
Street Without A Name
The Dome Village
Los Angeles Area Friday Night Skate
If you would like to make a tax-deductible donation (even art supplies will help!) contact SWAN (Street Without a Name) at 310-578-1400 or email them at TheSWAN19@aol.com.
---